Regional: Retail and leisure
Creating brilliant places in our Regional portfolio
Over the last 12 months we have been enriching our understanding of our visitors at each location; exploring how and why they use our spaces, and what we can do to better meet their needs.
These insights inform how we tailor our approach to each location, ensuring we meet the preferences of the people who use it most.

This has driven a focus on assets that are not just brilliant places to shop, but also to eat, exercise and be entertained. This range of complementary uses will be crucial in ensuring destinations are resilient and fit for the future, and has and informed our approach at Rushden Lakes and Westgate.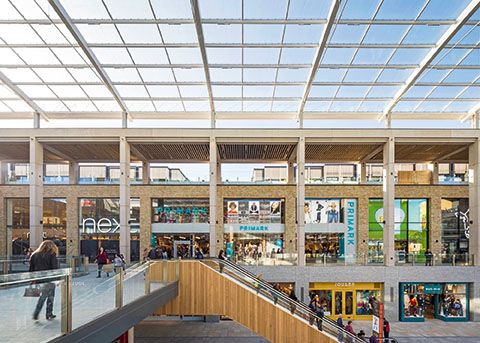 We are building on these successes and already thinking about the next phase of development on our Regional portfolio. At Rushden Lakes, we are adding exciting new leisure activities, including a cinema, rock climbing and cycle hire. At Fosse in Leicester, work has also begun on the extension, where nine additional retailers will be complemented by a new line-up of restaurants and improved public spaces.
"We are challenging ourselves to think hard about how the best destinations can adapt to meet changing expectations on everything from the role of technology to sustainability, community and visitor experience."

Hannah Milne
Director, Regional Portfolio, The Crown Estate
Alongside this, we continue to work with local communities across the breadth of the country. Our Recruit Regional scheme, for example, provides training and support for jobseekers, and connects them with employers at our centres and is now established at four of our destinations. We are working with partners in each location to deliver against the specific employment and skills needs of people in the area.
We have worked in partnership with The Wildlife Trusts to deliver community-focused projects, such as the nature trail at South Aylesford Retail Park and the BioGraffiti wall at The Gate in Newcastle. These projects enhance biodiversity and invite local people to engage with our destinations in a new way.
*See Total Contribution