COVID-19 presented an enormous challenge for our urban fabric, as well as accelerating a number of existing trends, not least the need to earn patronage of our key streets. These challenges, combined with the requirement to enable space for social distancing, called for immediate innovation and collaborative action.
Working in partnership with Westminster City Council and Transport for London, we delivered significant improvements to the public realm on Regent Street as part of a vision to create a greener, cleaner, safer and more accessible West End. Integral to the project was the need to balance the requirements of all those who use the street – shoppers, residents, workers, retailers, suppliers and visitors alike. Our aspiration was for Regent Street to become a place to amble, sit with a coffee, or meet friends, right in the heart of London. Our partnership approach enabled us to design and implement the trial scheme within just a few months.
The experimental scheme has delivered over 5,000 sq m of additional pedestrian space, reduced traffic from four to two lanes, and introduced dedicated cycle lanes, as well as 332 planters, 62 trees and seating - all for the first time on Regent Street.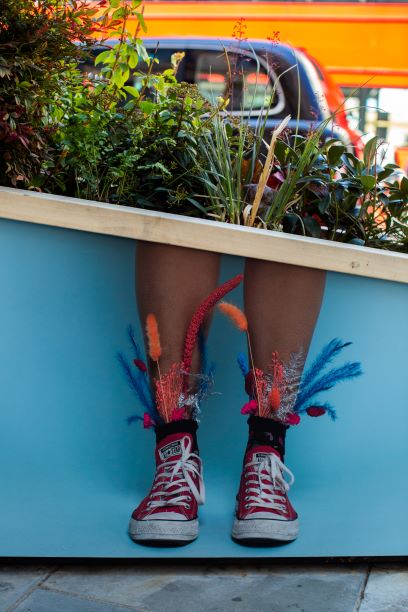 British artist Claire Luxton's bright artwork envelops 15 of the planters, creating fun Instagram moments drawing on themes of diversity and inclusion, sustainability and fashion – all of which are central to Regent Street's role as a world leading retail destination, which is inclusive and open to all.
The project is an experimental trial, enabling us to test, experiment and refine our approach for the future of Regent Street. To help understand how the street functions and to inform future improvements, we are utilising new technology and collecting data including traffic, people movement and air quality. We are also welcoming feedback to understand the community's priorities for Regent Street and are planning to track a range of further social and environmental factors.
Whilst delivered on a trial basis, the insights from the temporary scheme will help inform any plans for the future of the street, and assist our work to enhance its sustainability as we travel towards a net zero future and strive to create a truly people-centred destination.  
We recognise, after the impact of the pandemic, that cities are going to have to 'earn the commute' and this initiative is a great example of our new purpose in action. We believe the enhanced Regent Street will create a real welcome as visitors return to London and Londoners are drawn once more to their city's centre.
Watch our
video
to see the new space take shape.