Laying roots for the future
The Windsor Estate is recognised as having the largest collection of mature, over mature and ancient oak and beech trees remaining in Europe, north of the Mediterranean and the Pyrenees. This is important not only for the trees themselves but also for the plethora of organisms that depend on them for survival. Such a large number of trees covering the whole spectrum of age classes in one area provides a very rare, but declining, habitat.
It also provides a continuity of dead and dying wood, one of the key resources for animal, fungal and invertebrate species in a natural forest. As a habitat, Windsor is exceptional:
Over 2,000 species of beetle, including at least 200 rare beetles dependent on oak trees
Over 60 rare species of fly, of these, four have not been found elsewhere in the UK
Over 1,000 species of macro fungi have been noted, many for the first time in the UK, with four species discovered for the first time anywhere
A further 250 species of fungi are considered rare in Europe, with over 40 species entirely, or almost entirely, confined to Windsor.
Windsor's environment supports a large amount of birdlife too. From tree hole nesting birds, such as two species of owl of national significance and the mandarin duck, an introduced species threatened in its home range in Asia, to large numbers of breeding birds and winter visitors. The Great Park and Forest is also an important site for bird predators, with Windsor holding one of the highest breeding densities of sparrow hawks throughout Britain and Europe.
Approximately 80% of the Windsor Estate is classified as either a Special Protection Area, Special Area of Conservation, or a Site of Special Scientific Interest
To maintain this precious eco-system we are undertaking a 10-year landscape restoration and replanting scheme, with the aim of increasing and accelerating the planting of a number of new hedgerows, hedgerow trees and infield trees.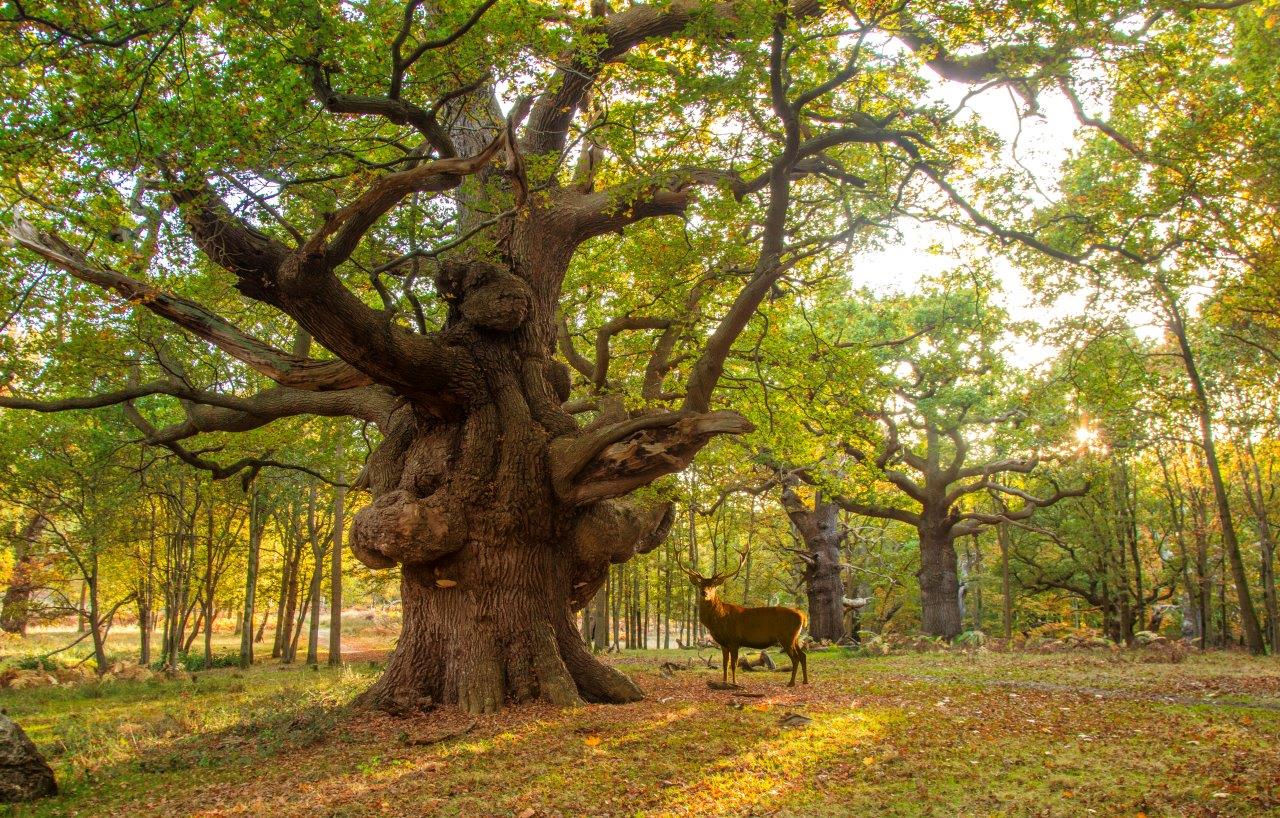 Ted Green, our long standing conservation adviser at Windsor working closely with Natural England, believes that the Estate has lost (excluding woodland replanting) between 10,000 – 15,000 trees over the last 140 years largely due to the impact of tree disease, storms and a lack of planting to match the rate of loss. This assessment has been made from data collected after major storms, our arboriculture records, and overlaying old OS maps on to modern satellite imagery from Google maps. Our plan is to reinstate the landscape at Windsor that existed before World War II, when large areas of deer lawns and pasture were ploughed up for arable production.
The 10-year programme will cover six areas:
Converting marginal areas of land back to parkland or wood pasture
Increasing the amount of hedgerow planting across the whole Estate
Planting all existing and new hedgerows with a variety of tree species
Restoring existing, and planting new, individual and clumps of in-field trees on a farm-by-farm basis
Restoring all of Windsor's derelict ponds and watercourses
Aligning and contributing to our wider net zero 2030 commitment and desire to build a capability and offer that showcases environmental best practice
In 2019 an Ecosystems Report for Windsor reviewed the areas of social and environmental benefit that the Estate provides. It calculated that the value of services derived from Windsor's complex ecosystems is at least £21 million p.a., with around two thirds of this contributed by the value of its vast, accessible green space. The report also found the Estate currently draws 56,000 tonnes of CO2 emissions out of the air each year. This 10-year replanting programme has the scope to further improve this figure. Read more about the findings of the Ecosystems report here.
We have existing links with various universities, colleges, NGOs and Wildlife Trusts, who are involved in environmental studies across the Estate. This is helping us fill gaps in our own data. Our vision is for Windsor to become a leading example of how an integrated sustainable farming, environmental and visitor business can co-exist, which we then mirror across other areas of our Rural holdings over the next decade. 
To drive this objective we are expanding the team, hiring a full time specialist conservation advisor to work alongside Ted Green and creating a Conservation Advisory Board for Windsor and the wider Crown Estate Windsor & Rural portfolio.
The habitats at Windsor are extremely rare and sensitive, and maintaining the correct balance in the future, between the demands of increasing visitor numbers and these unique environmentally sensitive habitats will be the biggest challenge we face over the next decade.
What is without question is that the environmental needs of the Estate's habitats must take priority in all areas of future land management to protect this unique landscape for the benefit of science, the environment and the nation.