Offshore Wind
Leasing Round 4
Unlocking new areas of seabed for the generation of low carbon energy for millions more homes by 2030
Towards a net zero clean energy future
Offshore Wind Leasing Round 4 creates the opportunity for at least 7 GW of new offshore wind projects in the waters around England and Wales by the end of the decade. That's enough to power more than six million homes and deliver a step-change in the UK's journey to net zero by 2050.
Round 4 has the potential to further strengthen the UK's world leading offshore wind sector, create jobs and investment, and deliver green, reliable, affordable energy to millions more homes. It's part of our commitment to supporting the UK's low carbon future while ensuring we maintain our healthy, biodiverse seas.
The projects identified through this process will join a strong pipeline of UK offshore windfarms already in operation, construction and planning, and will help put the UK on track to meet the government target for 40GW of offshore wind capacity by 2030.
Learn more about the Leasing Round 4 journey so far and what happens next below.
Update (September 2021):
The Round 4 Plan-Level Habitats Regulations Assessment (HRA) is now underway and is expected to conclude in Spring 2022. The process is currently at Appropriate Assessment stage. To find out more about the HRA process, click here.
To read the press release, click here.
Update (January 2022):
The Crown Estate welcomes the announcement by Crown Estate Scotland that 17 new offshore wind projects are to be awarded through the ScotWind leasing process. 
Read more in our press release
The Round 4 leasing process
The Round 4 leasing process consists of five stages - find out more about each of these below. Timings for future stages remain indicative and are subject to change.
1
Pre-qualification Questionnaire (PQQ)
Assesses potential Bidders' financial capability, technical experience and legal compliance, with successful Bidders pre-qualifying for the ITT Stage 1 process (becoming a Pre-qualified Bidder).
2
Invitation to Tender Stage 1 (ITT Stage 1)
Spring 2020 - Summer 2020
Assessing the financial and technical robustness of projects submitted by Pre-qualified Bidders. Projects that pass then become eligible to take part in the ITT Stage 2 process (becoming Eligible Bidders with Eligible Projects).
3
Invitation to Tender Stage 2 (ITT Stage 2)
Autumn 2020 (first phase), Early 2021 (second phase)
A multi-cycle bidding process in two phases, with issue of the ITT Stage 2 tender documentation in late 2020, followed by Bidding Cycles in early 2021. Using option fees bid by Eligible Bidders to determine award, one project is awarded per daily Bidding Cycle, with Bidding Cycles continuing until the 7 GW is awarded or exceeded (up to 8.5 GW).
4
Plan-Level Habitats Regulations Assessment (HRA)
Spring 2021 – Spring 2022
Estimated to take between nine and 12 months, the HRA assessment is undertaken by The Crown Estate in its role as a Competent Authority, and considers the possible impacts of Round 4 on the network of protected areas covering the UK's most valuable species and habitats. Learn more about the Round 4 HRA process.
5
Agreement for Lease
Spring 2022
We expect we could enter into a Wind Farm Agreement for Lease with successful Bidders in Spring 2022, subject to the outcome of the HRA.
Our objectives for Leasing Round 4
Round 4 is defined by five objectives – which strike a careful balance between meeting the needs of the nation for clean, reliable, low-cost power, while protecting our healthy seas and the wider natural environment.
Delivers a robust pipeline for low-cost offshore wind deployment,
to help meet industry appetite and Government policy objectives for new offshore wind capacity, supporting the UK's clean energy transition.
Offers an attractive, accessible and fair proposition to developers,
at repeatable scale, contributing to the development of a competitive, resilient and innovative offshore wind market.
Balances the range of interests in the marine environment,
supported by extensive engagement with stakeholders and the promotion of responsible evidence-based site selection.
Makes efficient use of the seabed,
recognising its value as a national asset, now and for the long term.
Unlocks the commercial value of the seabed in line with our statutory obligations,
securing best consideration over the long-term, for the benefit of the public finances.
Selected Round 4 Projects
The Offshore Wind Leasing Round 4 tender process has concluded, selecting six proposed new offshore wind projects in the waters around England and Wales, to progress to Plan-Level Habitats Regulations Assessment.
The successful bidders and projects are shown below.
Competent bidders were offered the freedom to identify and propose their own project sites, within four areas of seabed that were made available by The Crown Estate after extensive seabed analysis and engagement with stakeholders.
A three-stage tender process evaluated bidders' capability and their proposed projects, before using option fees to determine which would progress.
You can read more about Round 4 in our Information Memorandum, produced in September 2019, which provides an overview of the UK market and The Crown Estate's role, alongside a detailed summary of the design and structure of Leasing Round 4.
Protecting the marine environment
Projects selected through the three stage bidding process now progress to an environmental assessment known as a Plan-Level Habitats Regulations Assessment (HRA), which assesses the potential impacts of Round 4 on the network of protected areas covering the UK's most valuable species and habitats.
Estimated to take between nine and 12 months, HRA is a legal requirement, which must be completed before The Crown Estate can award seabed rights, and is an important step in helping to preserve the UK's precious marine environment. It is undertaken by The Crown Estate in its role as a Competent Authority.
Subject to a successful HRA outcome, developers will then be able to progress projects through the planning process, in which local communities and stakeholders will have an opportunity to participate.
Designing Leasing Round 4
Round 4 was developed and refined through 18 months of active engagement with stakeholders and industry, keeping them informed of our thinking and seeking their feedback to help shape its design through events, workshops, webinars and updates.
Their valuable feedback and comments helped develop and refine the final scale, location and nature of Round 4.
Read more
Identifying seabed Bidding Areas
With long coastlines, favourable wind conditions and shallow waters in many areas, the UK offers world-class natural resources for offshore wind. But the UK seabed is increasingly busy, with demands ranging from cables, pipelines and sand & gravel extraction, to navigation, fisheries and aquaculture. There is also the need to maintain an ecologically coherent network of marine protected areas. Throughout our planning for Round 4, we used data & analysis alongside engagement with a wide range of stakeholders to help strike this careful balance.
Following extensive spatial analysis and stakeholder engagement, we built a detailed evidence base to help us identify areas of seabed that offer the least constrained (most technically favourable) areas for offshore wind development – refined into four Bidding Areas.
These four Bidding Areas – Dogger Bank, Eastern Regions, South East, and Northern Wales & Irish Sea - are well suited to lower cost, fixed foundation offshore wind turbine technologies, offering the strongest opportunities for development at the current time.
Each area has waters up to 60 metres depth, and is less constrained than other areas by factors including: Ministry of Defence ranges and exercise areas; visual sensitivity within 13 km of shore; overlap with busy shipping routes; and major consenting risk due to cumulative environmental impacts, particularly ornithology.
Our Round 4 tender was designed to ensure that projects came forward across a minimum of three of these four Bidding Areas, helping to ensure geographic diversity of the pipeline and support the resilience of the UK's energy system.
You can find the details of this important work in our Resource and Constraints Assessment Methodology Report, Characterisation Areas Reports and Regions Refinement Report in the Round 4 document library.
The four available seabed Bidding Areas for Leasing Round 4 were: Dogger Bank, Eastern Regions, South East, and Northern Wales & Irish Sea.
Click on each seabed Bidding Area to find out more. 
You can also view a PDF of the seabed Bidding Areas map here.
For GIS shape files of the seabed Bidding Area boundaries, Characterisation Areas, and hard constraints, please visit our Open Data Portal.
The planning and development process
Following our leasing process, successful developers will take their projects through a number of important licensing and consenting processes.
Development and Consenting: estimated five years
Round 4 projects will need to apply for a Development Consent Order (DCO) from the Secretary of State for Business, Energy & Industrial Strategy via the Planning Inspectorate. Developers will also require consent to construct a cable connection onshore, and an agreement to connect to the National Electricity Transmission System.
Procurement and Contracts for Difference (CFDs): estimated two years
Developers take part in Contract for Difference (CfD) auctions to bid for support to build and run the wind farm. They also make their final investment decision.
Construction: estimated three years
Energy regulator Ofgem (The Office for Gas and Electricity Markets) also runs a separate competitive tender process to operate the offshore transmission assets, which are assigned to the successful bidder once the windfarm is constructed and commissioned.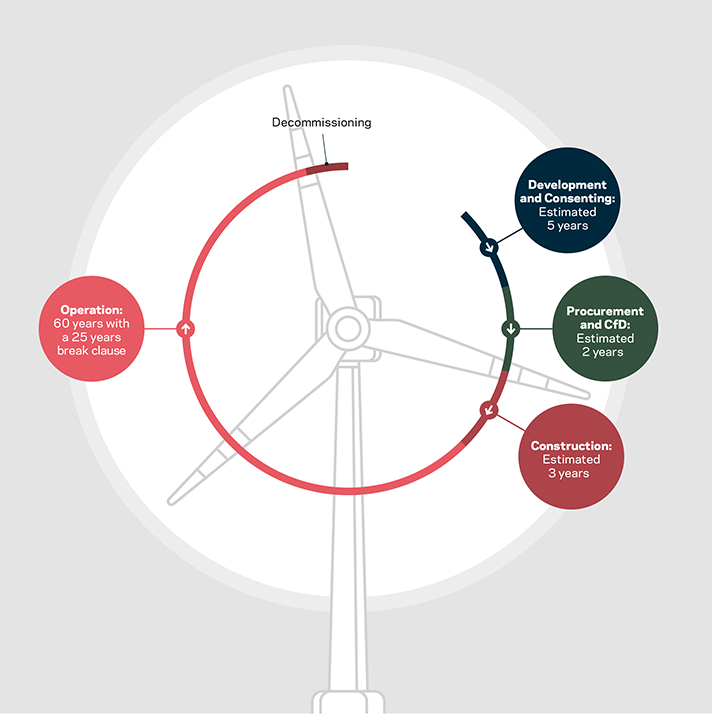 Enabling sustainable growth
We know that as the marine environment becomes busier, collaboration and a 'whole system approach' is key to the continued, sustainable growth of the offshore wind sector.
Alongside our work on offshore wind leasing, we have launched a partnership, to unlock offshore energy ambitions and protect the nation's marine environment, known as the Offshore Wind Evidence and Change Programme.
This programme, is being delivered in partnership with Department for Business, Energy and Industrial Strategy and the Department for Environment, Food and Rural Affairs, and in collaboration with a wide range of other stakeholders.
It will work to tackle the huge challenges posed by so many overlapping and often conflicting demands for seabed space, providing the evidence for the future designs of vibrant and productive seas around our country. It will help us to tackle the cumulative environmental impacts of offshore wind, and its effects on users of the sea and onshore communities. By working together in this way, we aim to facilitate the coordinated growth of the sector, whilst supporting action to secure clean, healthy, productive and biologically diverse seas.
Additional resources
Through leasing Round 4 and beyond, we remain committed to building the foundations for the continued growth of UK offshore wind. The resources below focus on sharing of knowledge, data and research, and our work on investing in a programme of strategic enabling actions, to continue building the evidence base in the sector and enable sustainable and coordinated growth.