Gender Pay
The gender pay gap looks at the difference in the average pay between all men and women in an organisation.
What is the Gender Pay Gap?
The gender pay gap looks at the difference in the average pay between all men and women in an organisation, taking account of the full range of jobs and salaries.
It is different from 'equal pay', which, as set out in the 2010 Equality Act, guarantees equal reward for men and women for doing the same or similar jobs, of equal value.
For context, the UK's average gender pay gap is currently estimated to be around 17.3%, meaning that on average, men across the country typically out-earn their female colleagues by almost one fifth.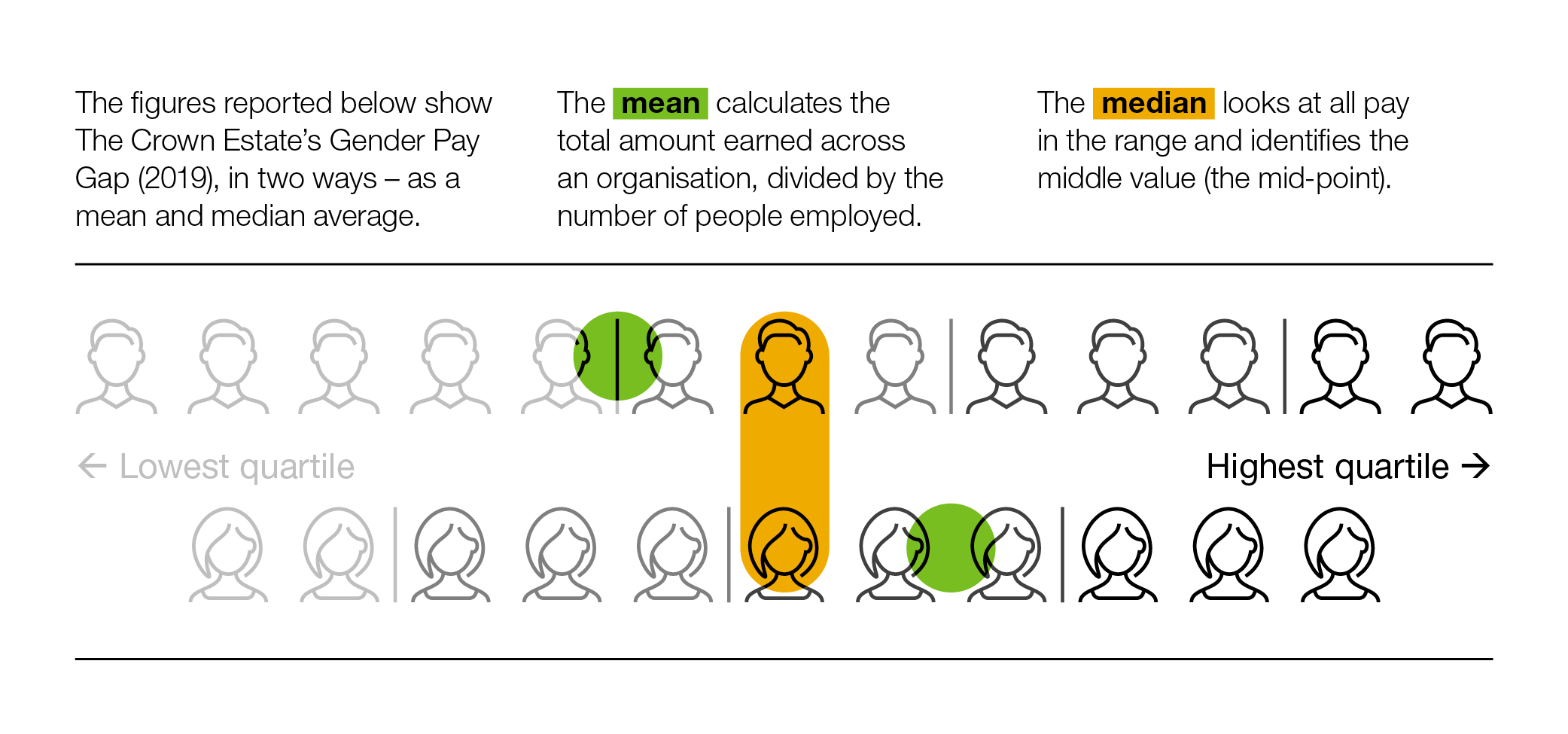 Gender Pay at The Crown Estate (figures from April 2019):
Over the past year, we've continued to make progress on the gender pay gap for both base and bonus pay, shifting them closer to balance. This is a result we're proud of, but there is always more work to do.
As a business with a relatively modest headcount relative to the size of our portfolio, even small changes in the makeup of our team can have a statistically significant impact on the stats we report. With this in mind, our focus is on ensuring we achieve a meaningful, long-term trend towards balance. 
We also recognise that Gender Pay is only one element of a much broader conversation about diversity and inclusion in the workplace. Ensuring that everyone, regardless of their gender, but also their ethnicity, sexuality, age and social background, has access to equal opportunities, on recruitment, pay, and career progression is fundamental to helping us attract talent, motivate our people, and support a healthier, more productive workplace.
Base Pay
Over the past year, we've further reduced the gender pay gap for base pay, shifting closer to balance. Our mean base pay gap now stands at -3.2% (down from -5.6% in 2018) and our median is at -13% (down from -25.6%).
As with previous years, The Crown Estate's base pay imbalance in favour of women reflects the fact that we have a number of senior female leaders (including 3 of 4 on our Executive Committee at the time of this assessment), as well as large number of predominantly males working within the Estate team at Windsor Great Park. Our progress in narrowing this gap since 2018, reflects the fact that we've made a number of new senior male appointments since we last reported.

Bonus Pay
Our bonus gap has also narrowed, with our mean now standing at -0.6% (down from 10.4% in 2018) and a median of -54.1% (down from -57.6% in 2018).
The continued narrowing of our bonus gap reflects the fact that a number of senior women became eligible for bonuses for the first time during the reporting period, after joining the business midway through the previous year.

In 2019, we also saw small decreases in the proportion of both men and women receiving bonuses – with the gender split widening slightly.

Gender split by pay quartile:
Over 2018/2019, we've continued to grow our team, bringing an array of new skills into the business. As a consequence of these appointments, we have seen a small increase in the number of male employees in the upper and upper-middle pay bands. These changes build on an existing gender imbalance at both the higher and lowest ends of The Crown Estate's pay spectrum, where men make up a large proportion of the employee population.
This distribution reflects a continuing split, evident across the wider economy, in the types of roles that men and women often occupy. For example, while we have a higher proportion of women in our operations team, in our People Team and Communications roles for example, the majority of our Estate team at Windsor are men, as are a majority of our most senior people in our London portfolio teams.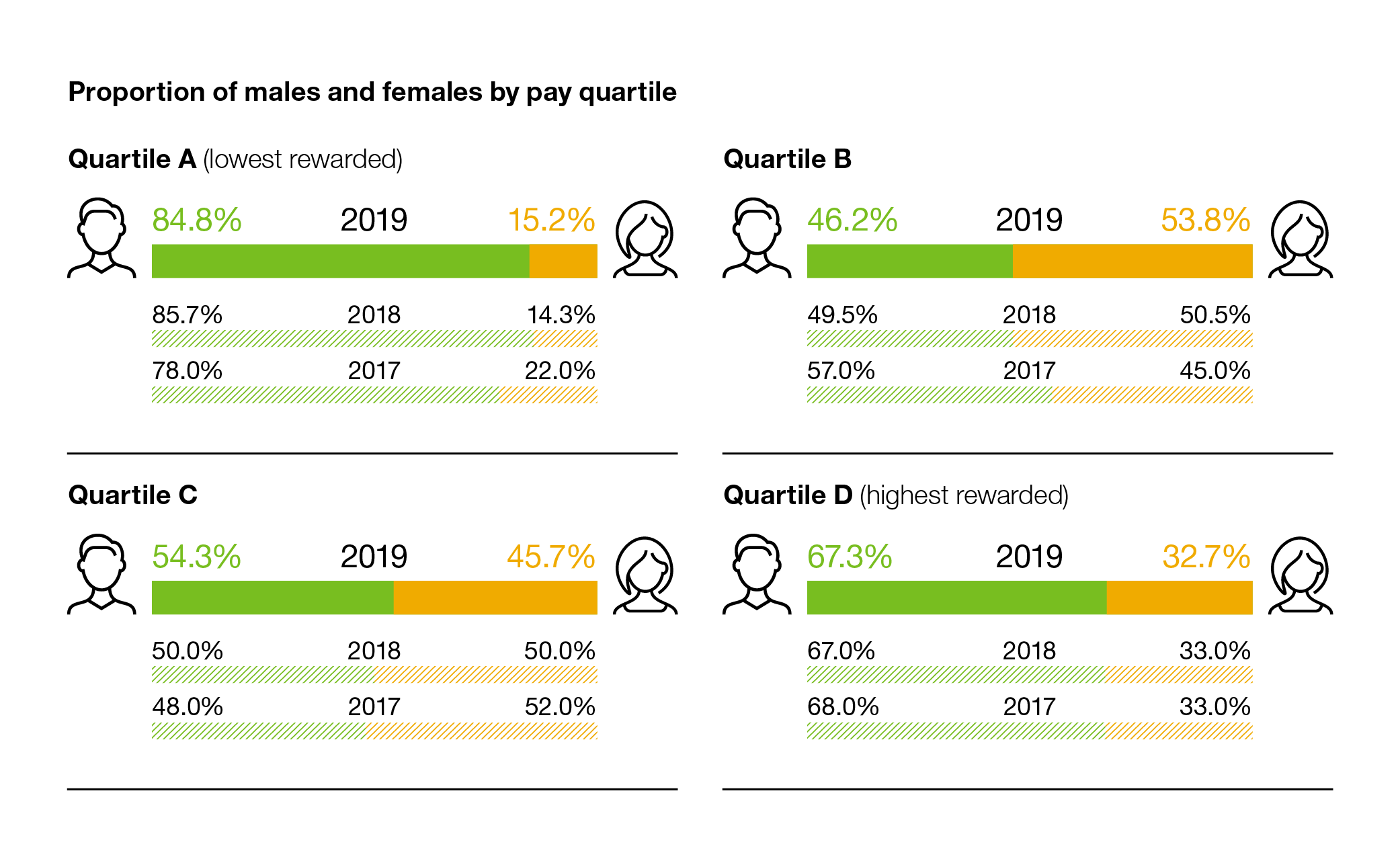 What are we doing to close the gap?
At The Crown Estate, we're proud to have a good representation of female leaders in our organisation but we recognise that there is more work to do across all levels of the business. We continue to focus on ensuring that pay within The Crown Estate represents a fair recognition of performance, regardless of gender, and have a number of processes in place to help support equality of opportunity and pay, including:
A structured recruitment process, helping to support unbiased hiring decisions and ensure a good mix of male and female candidates is shortlisted.
Active monitoring of our talent pipeline by gender, ensuring that both male and female employees have equal access to development and equal opportunity for progression and that this data is regularly shared with The Crown Estate's senior leadership to support future strategy and hiring decisions.
Independent salary benchmarking against the market, irrespective of gender, across all of the sectors in which we operate.
A range of family friendly policies, including for maternity, paternity, shared parental leave and emergency care, helping to support work/life balance.
In this, our third year of gender pay reporting, we have introduced a number of further measures, designed to help us to support more balanced, and diverse workplace. These include:
Enhancing our shared parental leave so that both male and female colleagues have access to up to26 weeks leave on full pay, at any time within the first year of parenthood.
Introducing maternity-return coaching, to provide additional support for women who are transitioning back into the workplace after time out.
Actively encouraging dynamic working, to support colleagues balancing work, personal lives and/or caring responsibilities.
Introducing new software to identify and eliminate gender bias in all recruitment communications, including job descriptions and adverts, ensuring we stand the best chance of attracting the widest possible pool of applicants.
Establishing a Diversity & Inclusion working group, bringing together colleagues from across the business, to help shape out approach to culture and ensure we're enabling everyone to perform at their best.
In addition to these measures, we and many of our peers in the property sector also continue to work hard to help open our industry up to new talent, including by hosting mentoring and careers events with organisations including Reading Real Estate 'Pathways to Property' and the 'Into University' programme to host mentoring and careers events.
Continuing to build on our progress in each of these areas, will remain a key priority for us in the years ahead, as we strive to build an ever stronger team.
Judith Everett
Chief Operating Officer
Report archive