Offshore wind potential new leasing
Latest updates about The Crown Estate's work with the offshore wind industry and stakeholders to consider making new seabed rights available for offshore wind.
As managers of the seabed around England, Wales and Northern Ireland, The Crown Estate is working with the offshore wind sector and stakeholders to consider making new seabed rights available for offshore wind. 
In line with Government and industry appetite for additional offshore wind capacity, and following the significant cost reduction demonstrated by the sector, we are working to explore the potential scale, location and nature of potential new leasing.
Listening to views
Throughout 2018 we engaged with industry and stakeholders, to share our analysis and our proposed tender process, and seek views on our approach.
Following this, we intend to confirm plans for a new offshore wind leasing round, to be known as Round 4. This could be launched in late Spring 2019, maintaining a pipeline of projects through to the late 2020s and beyond.
Our work to date
Following our initial announcement of the potential new leasing round in November 2017 and the update shared in February 2018, we held information sessions with stakeholders and interested market participants in July 2018 to set out our early thinking and seek feedback.
Having reviewed this initial feedback, we presented our updated proposals as part of a second phase of engagement with a wider group of stakeholders and market in November 2018. We are now reviewing feedback from this phase of engagement as part of our work to finalise plans for Round 4. 
Click to see our engagement journey to date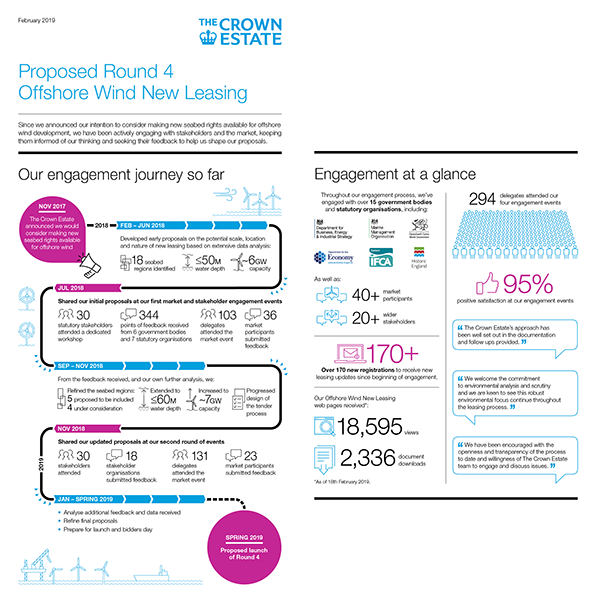 All relevant press releases and information shared at each events are available on this section of the website. Please note these documents are accurate at the time of publication and form part of an ongoing evolving process.
More details on our plans for the proposed launch of Round 4 will be released via this website in due course.
Registering for updates
Interested parties can register here to receive updates relating to all new leasing processes across all parts of The Crown Estate's offshore (Energy, Minerals & Infrastructure) business.