Gender Pay
The gender pay gap looks at the difference in the average pay between all men and women in an organisation.
What is the Gender Pay Gap?
The gender pay gap looks at the difference in the average pay between all men and women in an organisation, taking account of the full range of jobs and salaries.
It is different from 'equal pay', which, as set out in the 2010 Equality Act, guarantees equal reward for men and women for doing the same or similar jobs, of equal value.
For context, the UK's average gender pay gap is currently estimated to be around 15.4%, meaning that on average, women earn 85p for every £1 that men earn when comparing median hourly pay.
Gender Pay at The Crown Estate (figures from 5th April 2021)
We know that ensuring everyone, regardless of their gender, ethnicity, disability, sexuality, age and social background, has access to equal opportunities, including on recruitment, pay, and career progression is fundamental. Building a truly inclusive team, and incorporating diversity into everything we do, supports our people and places to thrive, and is vital to creating a stronger business.
These latest figures show that the work we have been doing to bring The Crown Estate's pay gap closer to balance has made a difference, but we know we still have more to do across all parts of our business. Details of the actions we are taking are set out below.
Base Pay
Our mean base pay gap now stands at 5.8%◊, slightly reduced from 5.9% in 2020.
Our median gap has been brought closer to zero, at 1.9%◊, up from -6.3% last year. This has been impacted by a number of factors, including; increasing headcount across our business, creating new roles at a more senior level, and individuals being promoted.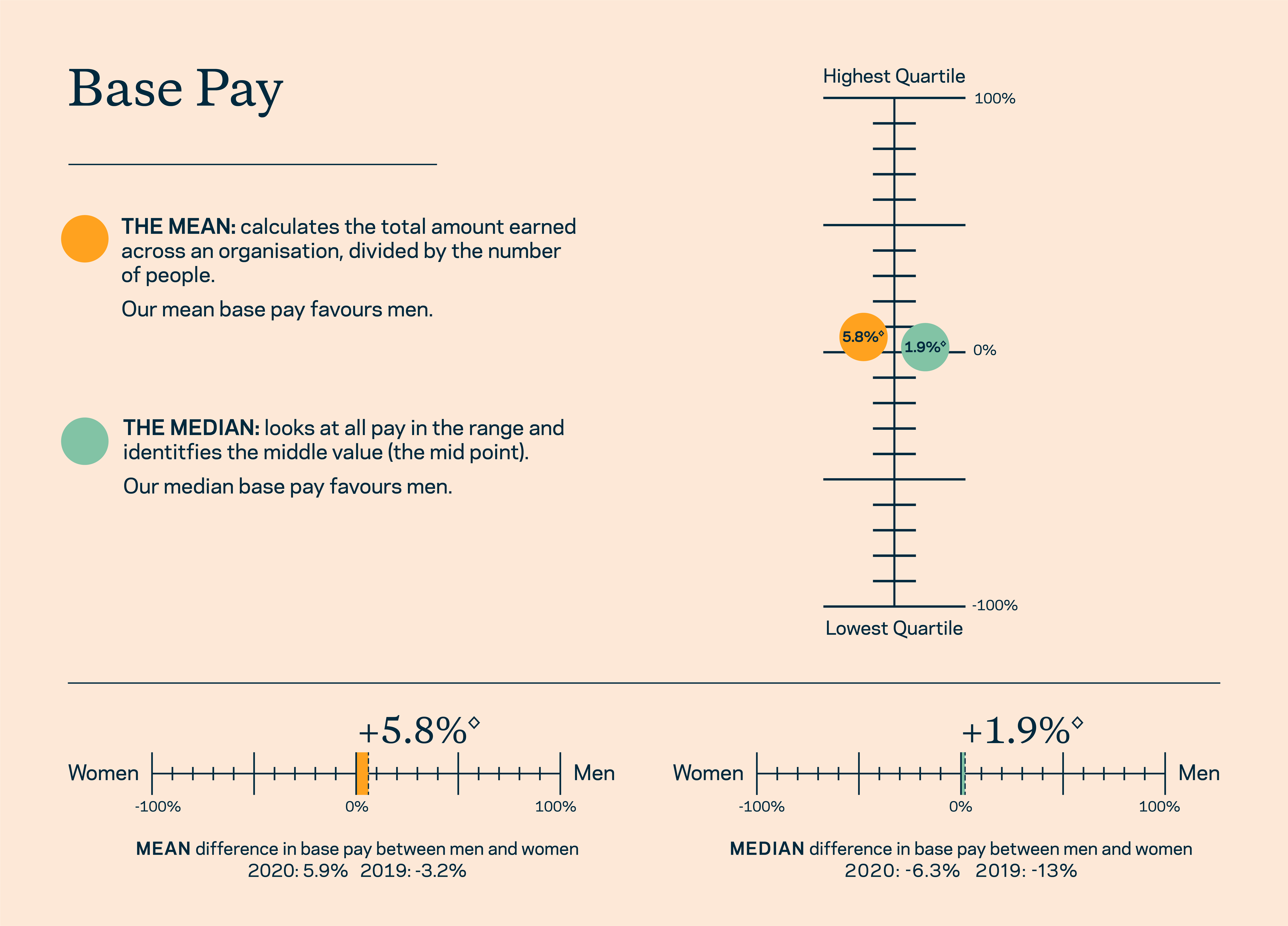 Bonus Pay
Our bonus gap has also been brought closer to zero, with the mean now standing at 8.1%◊ (reduced from 14.6% in 2020), and our median bonus gap now standing at -7.2%◊ (reduced from -61.2% in 2020).
The difference in the median bonus gap, from 2020 to 2021, has been affected by more individuals in the organisation becoming eligible for a bonus for the first time this year. However, the men eligible have been in more senior positions than the women who have become eligible.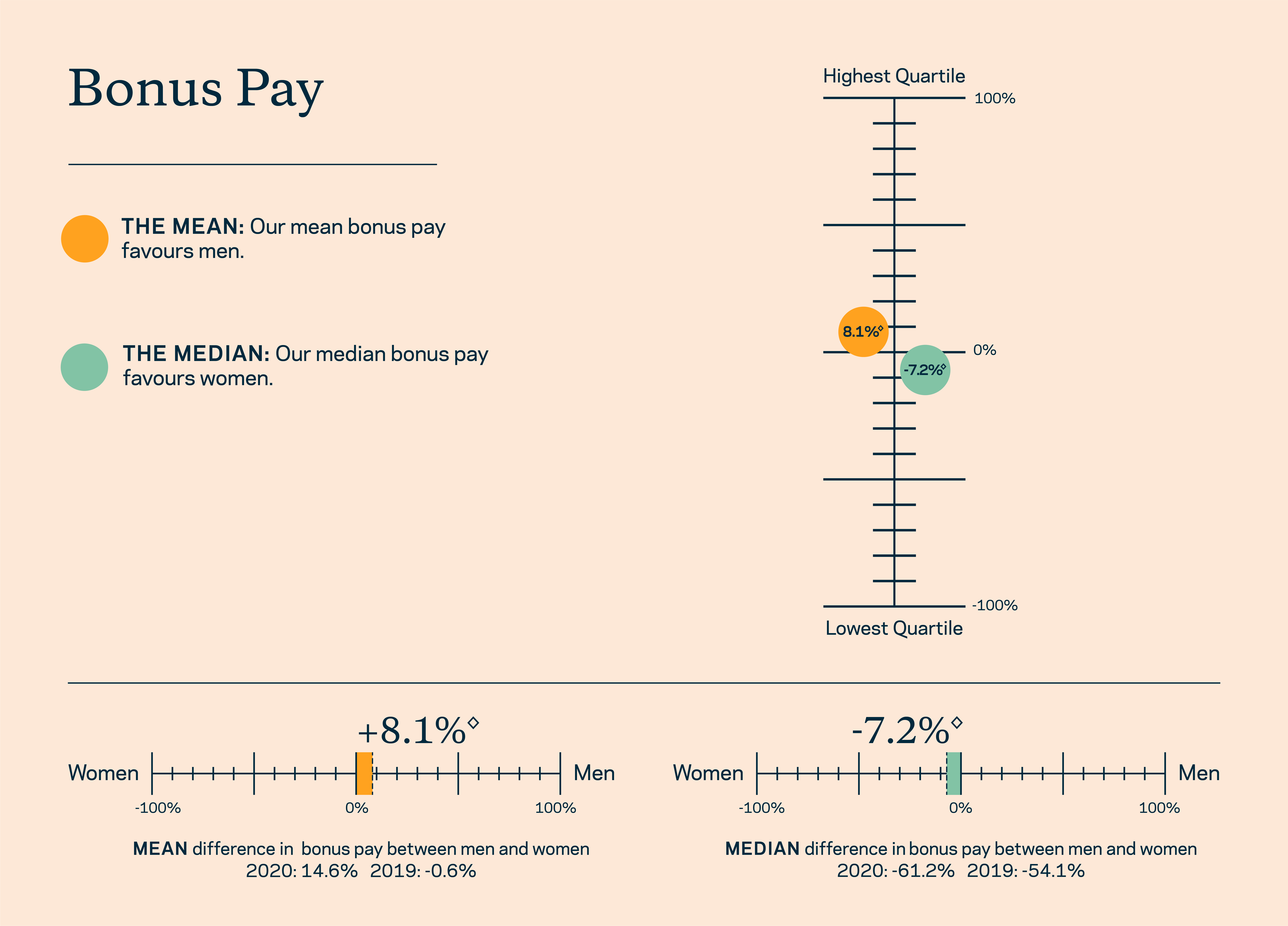 The gap between the proportion of men and women receiving bonuses has also become more balanced this year, with 84.0%◊ of men and 82.5%◊ of women receiving a bonus. This reflects the fact that we have recruited more women into the business over the past year, with these new team members becoming eligible for a bonus for the first time this year.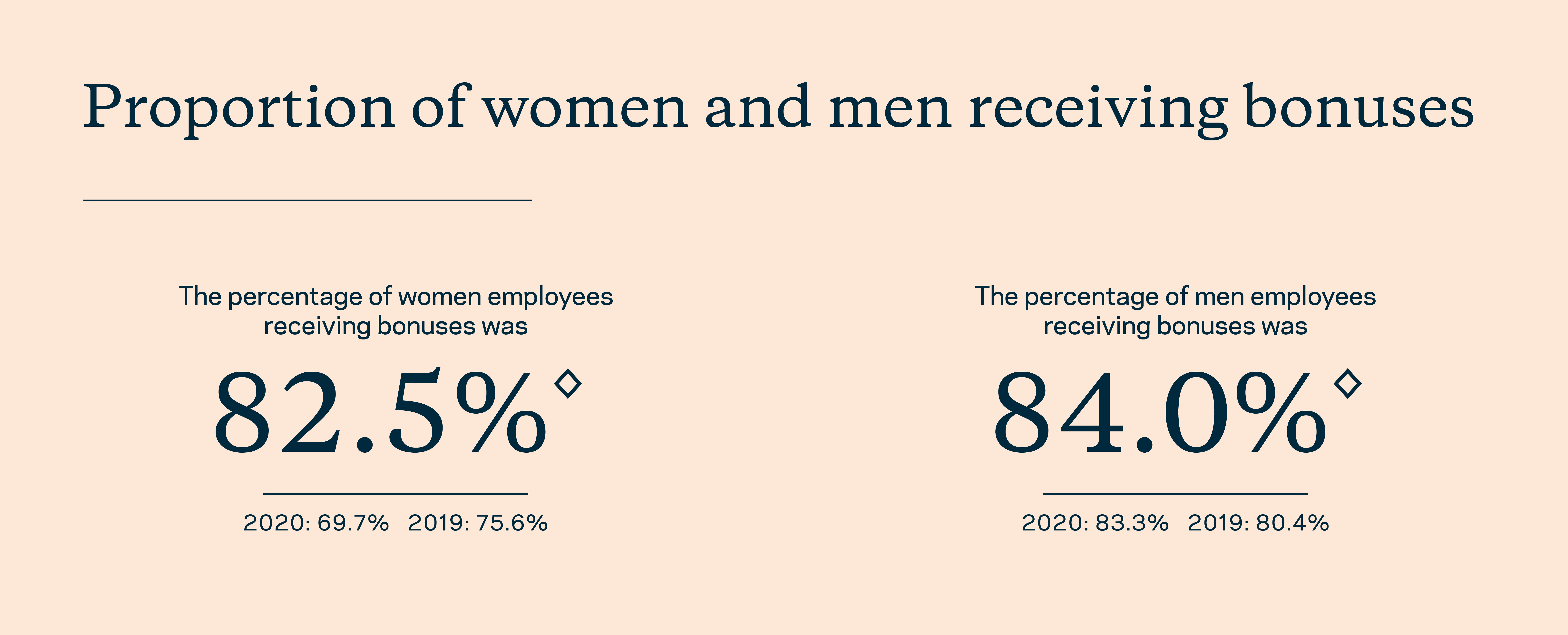 Gender split by pay quartile:
As the graphic below illustrates, while we have relatively balanced representation of men and women in the upper middle quartile of our organisation, the higher and lower levels of our pay spectrum are disproportionately men, and the lower middle quartile is disproportionately women.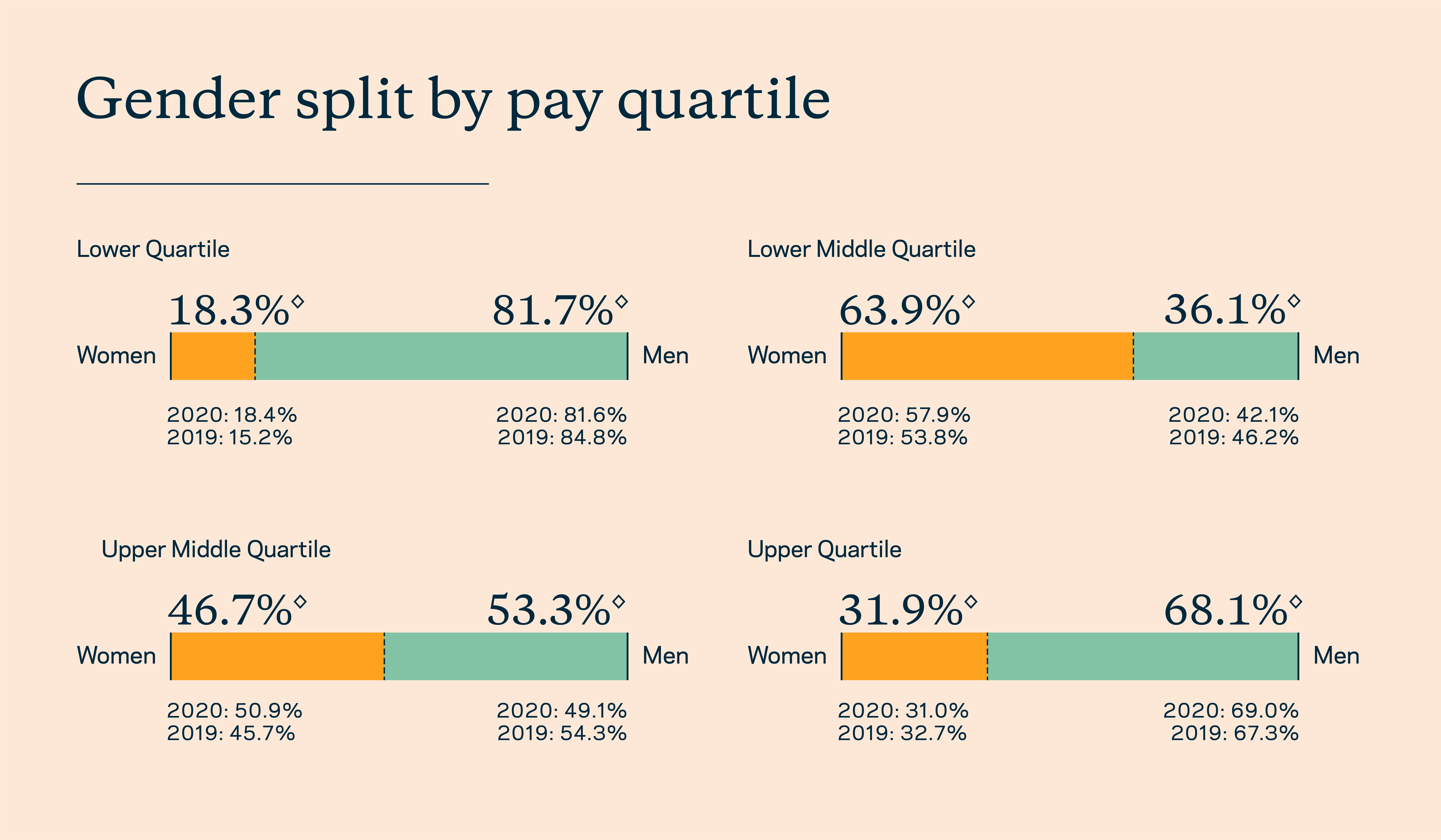 Whilst the numbers have remained very similar to last year, we have had a particular focus on hiring more women at a senior level, and creating more diversity across all areas of the business. This focus has resulted in us recruiting more women than men over the last year.  We are also proud to now have 45% women on the group leadership team (a shift which will be reflected in next year's gender pay figures), and although not included in the gender pay gap statistics, we are also very proud of the fact that 57% of our board are women.
What are we doing to close the gap?
Our ambition is to be an inclusive organisation that represents our society where all feel welcome, able to be themselves and belong. Whilst we know we still have a way to go, we have built a good foundation over the past couple of years, and we are beginning to see the impact of the changes we are making.
We recognise that culture is set from the top of the business, and therefore, this year we have had a particular focus on hiring more women at a senior level, and improving our diversity balance across all areas of our business.
We have a number of processes in place to create greater equity, and support a workforce that is more reflective of society. These include:
Independent salary benchmarking against the market, irrespective of gender, across all of the sectors in which we operate. We are currently introducing a new job framework, which will give us greater visibility into pay parity across the organisation, and create a tool kit to support with career progression.
We offer coaching to support people returning after an extended period of leave, including new parents. Since introducing this in January 2019, over 90% of women returning to work at The Crown Estate have taken this up and have provided positive feedback.
We have put in place a number of processes to support unbiased hiring decisions and ensure diversity of candidates, which includes diverse shortlists and interview panels.
Members of our Race, Ethnicity and Culture Network have taken part in piloting a reverse mentoring scheme. 
We will continue to challenge ourselves to tackle some of the systemic challenges that underpin imbalance, and we will focus our actions where we can make the biggest difference, as we strive to build an ever stronger, and more diverse organisation, where everyone has an equal chance to succeed.
Lisa White - Director of People and Culture
For more information on how we calculate our Gender Pay Gap, please see here for our methodology.
Limited Assurance: KPMG LLP has provided independent limited assurance over selected gender pay gap data highlighted on this webpage with the symbol ◊, using the assurance standard ISAE (UK) 3000. KPMG has issued an unqualified opinion over the selected data. KPMG's full assurance statement is available here, which together with our Reporting Criteria, should be read in conjunction with the assured gender pay gap data above.
Report archive