The UK is the global leader in offshore wind deployment, with a flourishing sector that is delivering clean, reliable power, green jobs, and making a vital contribution to the UK's clean energy transition.
Floating wind represents the next frontier in this green growth story.
Celtic Sea Floating Offshore Wind
The Government has set an ambition to deliver up to 5GW of floating wind by 2030, with rapid expansion anticipated thereafter.
At The Crown Estate we are committed to helping the UK achieve its net zero ambitions. To support this, we are excited to deliver a new leasing opportunity in the Celtic Sea for the first generation of commercial-scale floating offshore windfarms – unlocking up to 4GW of new clean energy capacity between 2030 and 2035, kick-starting industry in the region, and providing power to almost four million homes.
We will be inviting full commercial scale, 1GW projects, which may be developed in a phased or 'stepping stone' approach. Recognising the need to develop the UK supply chain and supporting infrastructure for this nascent technology, this approach is deliberately intended to provide opportunities for growth and investment and to facilitate the co-ordination of the necessary infrastructure, such as ports and grid connections – all of which are key to the sustainable development of the UK floating wind sector over the long term.
This leasing opportunity will provide the foundation for greater capacity in the future and help establish an exciting new industrial sector for the UK, creating opportunities for significant new investment in jobs, skills and infrastructure for the communities onshore.
Our aims
Our broad aims for this floating wind leasing opportunity in the Celtic Sea are: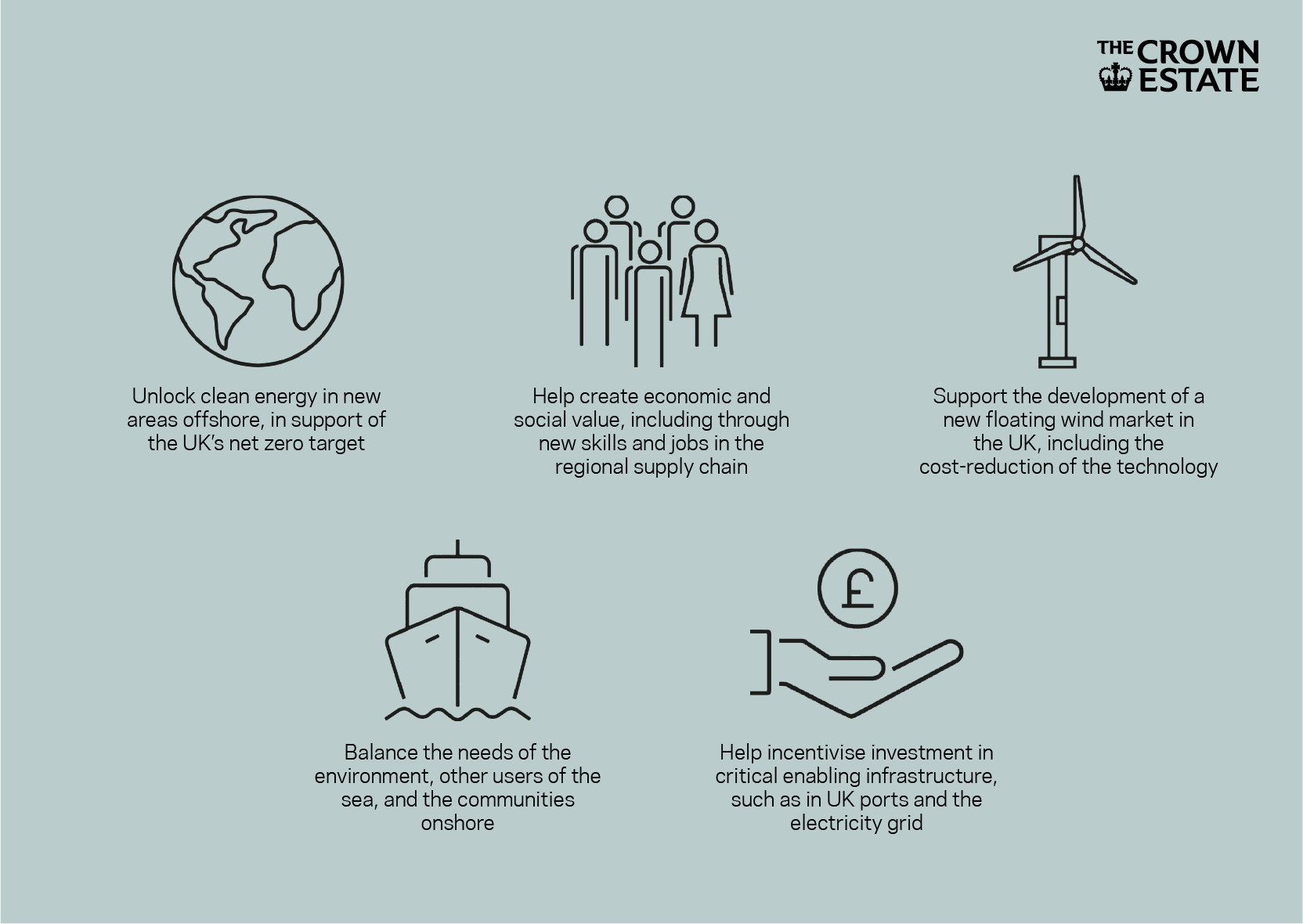 Identifying Areas of Search
We know that delivering new offshore wind in the Celtic Sea requires a careful balance between protecting the marine environment and all the competing activities within the area. This is why stakeholder engagement has been at the heart of our approach to spatial modelling throughout the early phases of this programme.
In identifying the Areas of Search, we have engaged extensively with a variety of market, marine and statutory stakeholders to ensure our proposals are informed by a wide base of experience and expertise. See our engagement journey to date.
Using feedback received from these engagements, together with our own technical analysis, we identified five broad Areas of Search. These larger areas will be further refined, with and alongside our stakeholders, into smaller final Project Development Areas within which the proposed windfarms will be sited.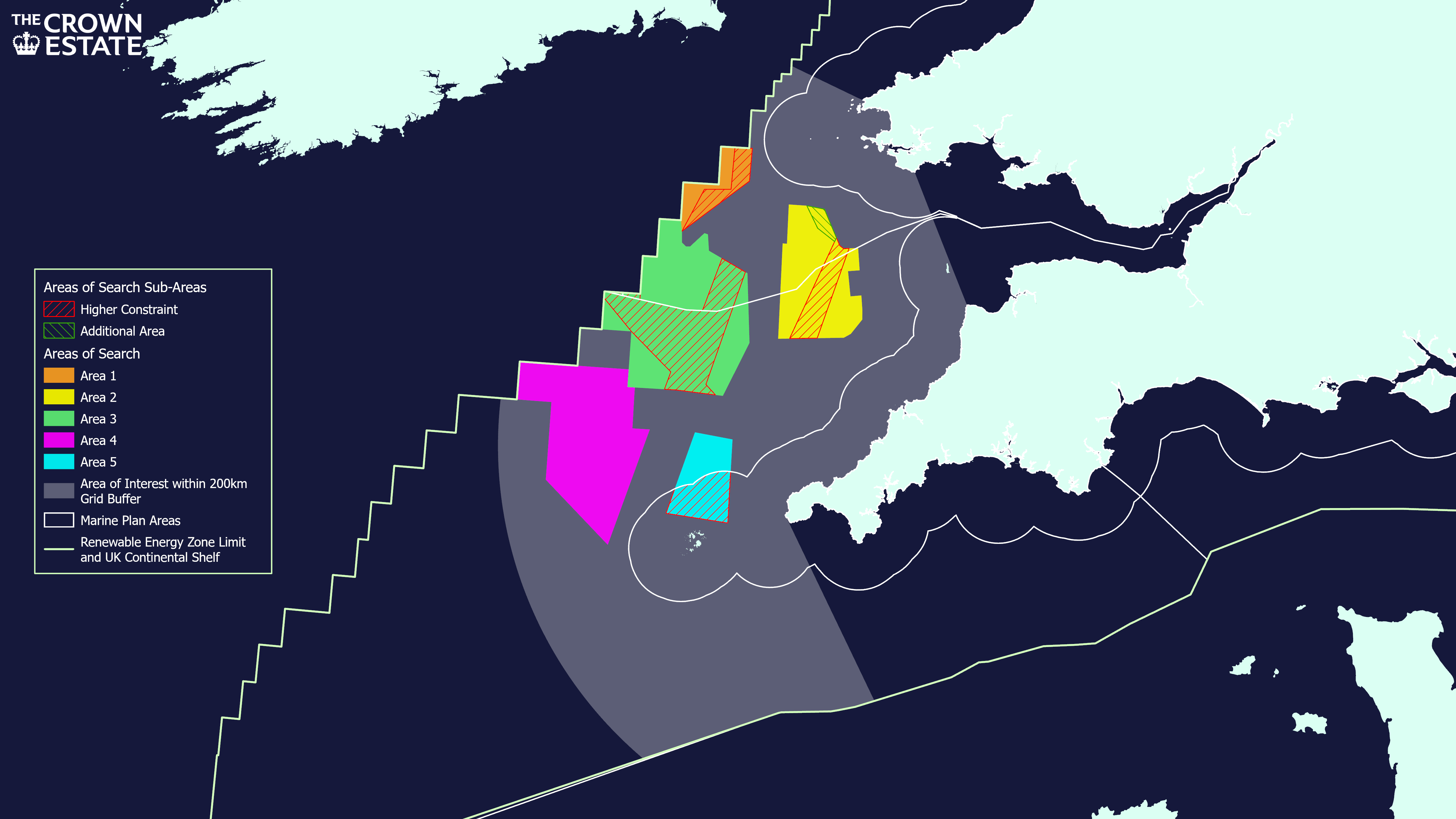 The figure above presents the five Areas of Search identified through the spatial design process. The hatched areas within the Areas of Search relate to potential risks or areas of potential opportunity that have been highlighted through bilateral engagement. 
More details on this map can be viewed via our GIS portal. Shapefiles can be downloaded here. 
Step through the process on how we identified these Areas of Search here. You can also read the detailed methodology in this report.
Next steps
The next phase in spatial design is spatial refinement, which will include further stakeholder engagement and technical analysis.
Plan-level Habitats Regulations Assessment (HRA), which assesses the potential impacts of our leasing plans on valuable habitats that make up the UK national site network of environmentally designated sites, will also begin alongside this spatial refinement work. By bringing forward the HRA process ahead of market tender, we aim to accelerate development timelines and reduce risk to developers. Find out more about the HRA process here.
We will use these additional inputs to narrow down the Areas of Search into smaller Project Development Areas that may be carried forward into a commercial tender and leasing process, culminating in the award of Agreements for Lease.
Quick links
Leasing programme updates
You can stay informed on the progress of this leasing opportunity through our updates and press releases below.
Pictures courtesy of Principle Power